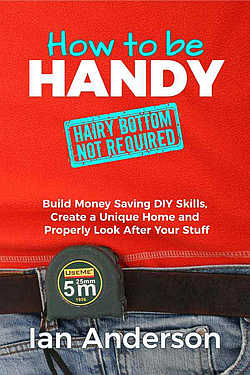 Just imagine using your own two hands…
…to repair broken things, restore old favourites, improve your home, build new stuff from scratch or even just boring old maintenance…
…But you're afraid you don't have the skills.
Well fear not, my DIY friend, because this is a different kind of DIY book. It gently introduces and explains the principles. It guides and motivates you far beyond 'do this, then do that'. You'll learn how to look at the physical world through 'practical eyes' like the professionals do.
There's over 30 years of professional experience as a builder and teacher in this actionable guide to being good with your hands and living a more practical life. It'll show you how to easily build your own skills and avoid all the common pitfalls.
You'll save money using your own head, hands, and heart to create something wonderful, fix something you treasure, maintain something you want to keep forever or build something just for fun.
You'll love being handy because then you can do anything!
Start being handy today.
---
Available as a 424-page paperback or of course as an e-book, search for 'How to be Handy' at your favourite flavour of Amazon or click the BOB (big orange button!) below…


---
Is this book right for me?
If you want to learn how to DIY and live a more practical life, be good with your hands, be good with tools, be knowledgeable about practical things, able to deal with breakdowns, make improvements or even build stuff from scratch; then YES! If you've never done DIY before, make this the first book you read. If you've already started, it'll show you how to build and improve the skills you have.
You'll be a DIY superstar and…
Develop your 'handiness' and practical know-how.
Plan your projects including the best places to buy materials.
Use tools, materials, fasteners, and hardware properly.
Easily assemble and install new flat pack stuff.
Maintain your stuff and repair breakdowns.
Dismantle and demolish stuff you want to remove.
Make improvements to your home and garden to fit your lifestyle.
Build stuff from scratch using your new skills.
Okay, that's the end of the blurb! So, if you want to be handy, buy the book, try it and as they say, "if you don't like it, tell me; if you love it, tell everyone else!" Feel free to share this page with any friends you think it will help, the sharing buttons are just below this post…
If you don't want the book right now, but like the sound of being handy? Then subscribe and I'll send you my mini DIY course which explains how to get started at this DIY lark… Yes please, sign me up!
Good luck with your own DIY endeavours and work safe.
Stay well
Ian
p.s. feel free to get in touch (via handycrowd.com) if you have a question about the book, or are interested in sharing it with your people…
P.P.S.

Here are the Chapter Headings…
Developing Practical Knowledge
Developing Practical Skills
Preparation and Plans
Buying Stuff
Tools, Tools, and Even More Tools
Fixings and Fasteners
Assembling & Installing (Flat Packs)
Maintaining Stuff
Repairing Stuff
Dismantling & Demolishing Stuff
Improving Stuff
Making New Stuff
Health and Safety
Reviews…
From amazon.co.uk…

---

---

Find more reviews on amazon as they come in… customer reviews at amazon
Bye for now, see you inside!