Complete DIY Guide for Homeowners
101 Ways to Save Money and Look After Your Home
(Kindle Edition)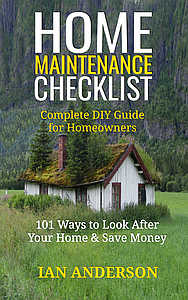 Let's be honest here, home maintenance has a huge image problem. It's not cool, it's not sexy and it definitely isn't ever going to beat the thrill of building something new and shiny, not ever…
But guess what; you know that new and shiny thing you're building instead of maintaining your home? Yup, it's going to need maintaining to keep that new and shiny look you so desire.
So relax a little, surrender to it, and since you can't truly escape it anyway, let a little maintenance creep into your life. Your stuff will love you for it; you'll fall in love your stuff all over again for looking so good, and oh; the planet will quite like you for it too.
So, grab this little guide and let me talk you into doing a little home maintenance…
Is this book right for me?
If you want to learn how to properly look after your home, then yes!

Click the BOB (big orange button!) above, to take a look at the 123-page kindle book (paperback coming soon), or you can just search for 'Home Maintenance Checklist' at your favourite flavour of Amazon.
---
Feel free to share this page with any friends you think it will help, the sharing buttons are just below this post…
Don't want the book right now but like the sound of what I do? Subscribe and I'll send you my free mini DIY course which'll get you started off on the right foot in this DIY lark… YES please, sign me up!
Good luck with your own DIY endeavours and work safe.
Stay well
Ian
p.s. feel free to get in touch (via handycrowd.com/handycrowd) if you have a question about the book, or are interested in sharing it with your people…
Bye for now, see you inside!
Stay well
Ian