Uh, oh; lath and plaster ceilings huh?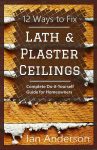 Love them or hate them, I'll show you what you can do with yours, based on over 30 years of on-site experience. I'll show you how to evaluate the condition of your ceilings and quickly run through the options you have to repair and keep them. Alternatively (and sadly); if needs must, I'll show you how to safely remove them and install new ceilings, either with like for like traditional materials or more commonly, with modern drywall materials.
This homeowners guide includes:
How to inspect and evaluate your lath and plaster ceiling.
7 ways to repair and keep your lath and plaster ceilings.
5 ways to replace your lath and plaster ceiling.
Step by step guide to removing your lath and plaster ceiling.
Levelling up your ceiling joists.
Installing drywall.
Further online resources.
Written in plain English (with just enough detail to get the job done) by me, Ian Anderson a construction specialist with extensive experience of working on older properties in the UK and around the world. In this easy to follow guide, you'll find everything you need to know to either repair or maintain your lath and plaster ceilings (and walls).
Is this book right for me?
If you want to learn how to evaluate your old ceilings (or walls) and then explore all the options you have to either repair them or replace them, then yes!

Click the BOB (big orange button!) above, to take a look at the 132-page paperback or of course the e-book (a free add-on if you buy the paperback…), click the button below to go to your nearest Amazon store, or you can just search for 'Lath and Plaster' at your favourite flavour of Amazon.
---
Feel free to share this page with any friends you think it will help, the sharing buttons are just below this post…
Don't want the book right now but like the sound of what I do? Subscribe and I'll send you my free mini DIY course which'll get you started off on the right foot in this DIY lark… YES please, sign me up!
Good luck with your own DIY endeavours and work safe.
Stay well
Ian
p.s. feel free to get in touch (via handycrowd.com/handycrowd) if you have a question about the book, or are interested in sharing it with your people…
Reviews…
5 stars: Pepper wrote:- …when I read this book. All you ever needed to know about fixing Lath and Plaster Ceilings. Everywhere you turn nowadays all you find out about are plasterboarded walls and ceilings or how to drywall your old 'uns.
Ian's take on repairing period ceilings is well-written, humorous and jam-packed full of information on different approaches.
Wish I had this author in my pocket when I was scratching my head in despair on what to do next with my crazy paved ceilings in my 1920's home. Now I have "him" on my Kindle, Google and YouTube can take a well-earned rest from me!
5 stars: Miss S.Richard wrote:- This is a great little book, very useful with clear explanations. You may need a little plastering experience for context but it's informative for anyone with this type of ceiling, whether you do the work yourself or hire in someone else. If you are looking to hire someone, it is always good to be aware of the options and this book will definitely assist.
---
Find more reviews on amazon as they come in… Ian's customer reviews at amazon
Other News…
lakewoodobserver.com/the-benefits-of-maintaining-your-plaster-walls-and-ceilings
Bye for now, see you inside!
Stay well
Ian